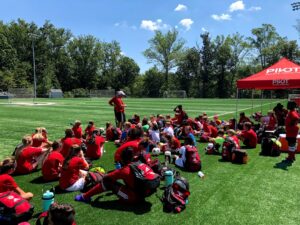 June 21-25; August 2-6 TOTAL FOOTBALLER
June 28-July 2; July 26-30 BALL MASTERY, ATTACKING & FINISHING
Each camp is designed to improve each individual with a heavy emphasis devoted to technical & skill development.  Campers will gain confidence and composure on the ball through intensive skills training, as well as, understanding how to deal with pressure and develop good decision making skills in competitive games. All of this will be accomplished in a safe, positive, encouraging, and enjoyable environment.
The "Total Footballer" camp focuses on developing the complete player in every aspect of the game.  Each player will improve their individual and small group attacking & defending skills in 1v1, 2v1, 2v2, and 3v2 situations and small-sided games; improve their passing & receiving skills and understanding of how to move and support off the ball to keep possession and combine to break pressure; improve their crossing, shooting & finishing and overall become a more complete player by learning positional play & movement principles in larger sided scrimmages in the afternoon games.
The "Ball Mastery, Attacking Play & Finishing" camp is aimed at improving play in the attacking third of the field.  Focus will be placed on extra technical and tactical repetition of individual and group attacking skills to beat defenders in 1v1, 2v1, 2v2, 3v2 situations and scoring goals.  Players will also work on a variety of finishing techniques (power, placement, chips, curled, volleys, breakways, off crosses) and functional movement patterns of target play, 3rd man runs, diagonal runs, overlaps, underlaps, wall passes and through balls to create goal scoring opportunities.  Scoring off heading will also be worked on for players aged 12 and above.
Goalkeeping will be offered in all camps. We will have a GK coach on staff to focus on the goalkeepers enrolled in camp.  The GK coach will work with the goalkeepers in technical drills and exercises every morning and provide feedback of positioning and decision making during the small sided games & scrimmages. Goalkeepers will improve the following skills: catching, diving, dealing with crosses and high balls, understanding angles, and distribution.
For more information, Click Here