Futsal Program Information
Due to the current situation with Covid-19, MD United FC will not be hosting a Futsal Program this year. More outdoor programming will be offered this winter.
In a traditional year, the U8-U18 Futsal program is designed to improve technical skills, game understanding & decision making in tight spaces and a fast-paced game.  The program will consist of training sessions and tournaments and will avoid conflicts with current team programming. 
Past Practice Locations:  Indian Creek Upper School, Annapolis Area Christian School
Dates & Times:  TBA but mostly on Sunday evenings & Saturday afternoons (will not conflict with MD United team program calendar)
Tournaments: (all local tournaments, no overnight stay required)
To be finalized as we approach the Winter months
December:  December tournament

January:  Maryland Futsal State Cup or January tournament 

Optional:  3rd local tournament ADD ON FEE
Maryland United players do not have to tryout, but must register and will be placed on the appropriate team. 
Non-Maryland United players will be allowed to participate in the futsal program.  Please contact steve.campbell@mdunitedfc.org to arrange an evaluation.
Questions or more information contact steve.campbell@mdunitedfc.org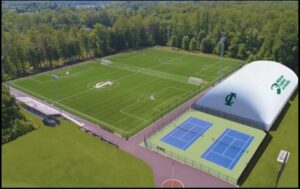 Future Maryland United Indoor Bubble at Indian Creek
Frequently Asked Questions
All coaches will be professional & licensed coaches who are currently on the Maryland United Coaching Staff.
NO - players will use their Maryland United Uniforms.
Yes - for players to get the full benefit of a futsal program, we will utilize a hardcourt surface and futsal balls at training.
NO - all events will be within a reasonable driving distance not requiring the need to stay overnight.
Teams will be created based on the Maryland United outdoor rosters. For example, players will be grouped together with teammates from their own team.  Roster sizes will be 8-9 players per team
 If there are not enough players to form a team we will combine players from the age group player pool (including players from outside of the club) or place a player(s) on a team in an age group above or where we see it being a good fit.  If there is not a good fit you will receive a 100% full refund.
YES - the schedule will be finalized by mid November.  Only inclement weather, school closures, or unforeseen events will cause a deviation from the original schedule.