Thank you for choosing Maryland United!  Please see the information below and reach out with questions. 
--------------------------------------------------------------------------------------
Part 1:  PLAYER REGISTRATION
Step 1.  Register for Tryouts
Please use this link below to register your player(s) through Playmetrics.

Follow the instructions provided and create an account. Next, verify your email and add your players to your account. Once you've added players, you can register for the Maryland United 2023-24 tryouts.
 Click here for a quick video tutorial.
Step 2.  Once offered a position on a team and you verbally accept, you will receive an email from the club inviting you to your specific team and to choose your payment options for the full year balance.  You will be able to choose to make a full payment or a monthly payment plan upon check-out.  If you choose to pay in full, your registration you will receive a 5% discount. 
To confirm official acceptance on the team you must make an immediate payment (first installment).
All payments will be either debited directly from your bank account or payment by credit which will be processed automatically on the date established.  No cash or checks will be accepted by Maryland United FC Staff.
--------------------------------------------------------------------------------------
Part 2: PLAYER CARDING
As soon as carding registration is opened for 2023-2024, you will be notified and provided Carding Instructions and steps.   For further questions please contact Athena Gramates at (email). 
--------------------------------------------------------------------------------------
Part 3: UNIFORMS
Information will be sent in June to order the mandatory uniform pieces from Capelli for the 2023-24 season.  Please note - this is a new uniform year, so the uniforms will be used for 2 years.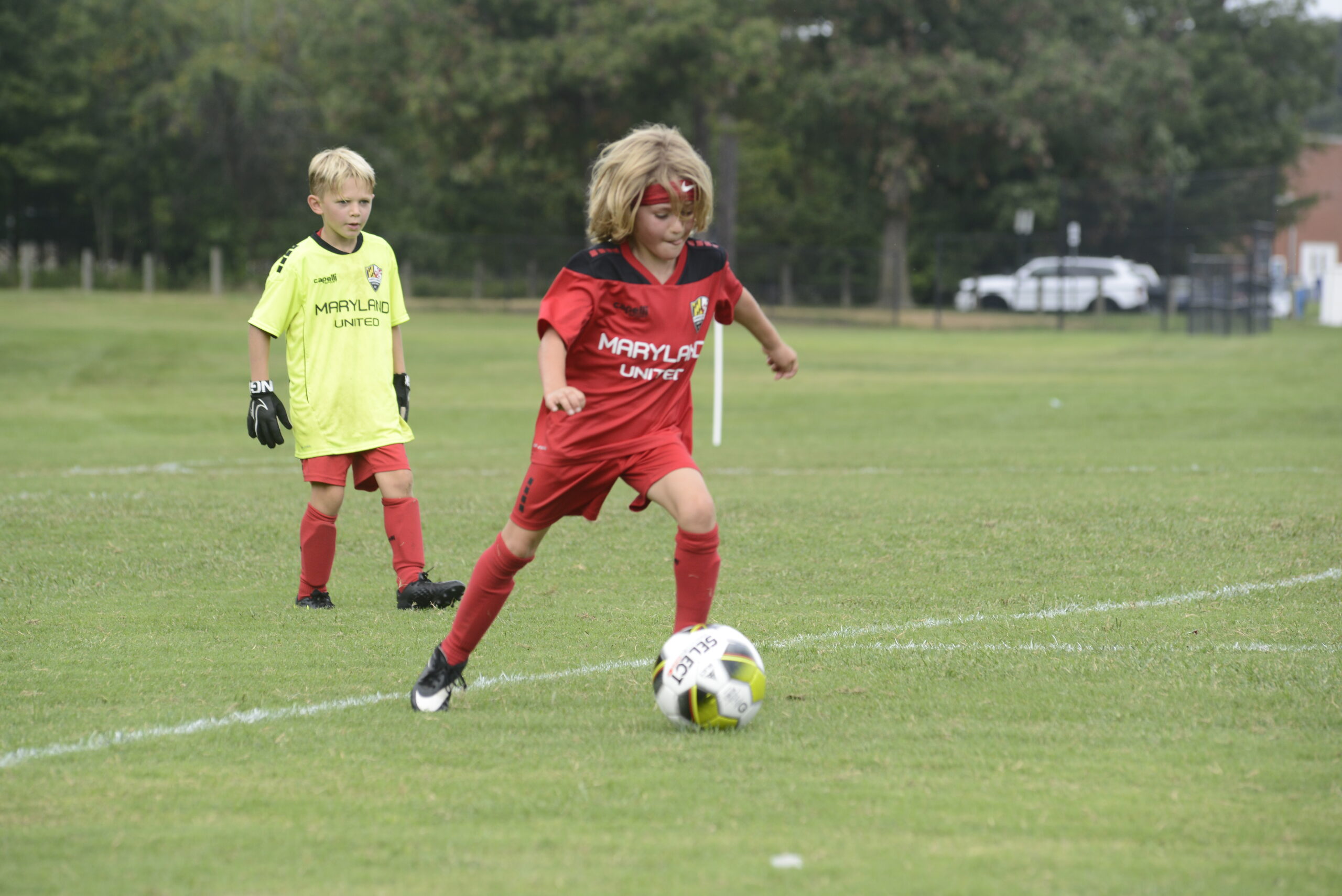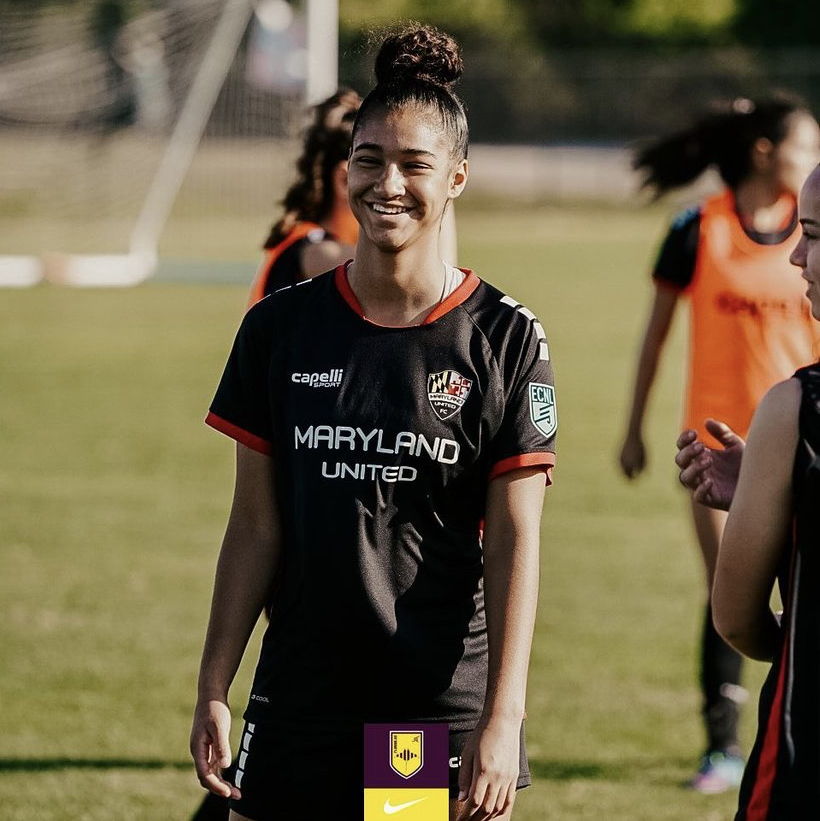 The first payment will be due immediately upon accepting your position on the team in May/June.  After the initial payment, monthly payments are assessed on the 15th of each month (July-January).
A late fee of $15.00 will be applied each month to a player's account if more than 7 days late of due payment.
It is the player and family's responsibility to remain current and in good standing with the payment calendar.
Upon the failure to make payments within 30 days of the payment due date, The Board of Directors shall take the following action: Notification to coach, manager and player that the player is not in good standing. Payment must be made before the next payment due date. 31+ days: Notification to coach, manager and player that the player is not in good standing and immediate payment must be received; otherwise the player will be suspended from all team training, games and activities.
Maryland United FC's mission is to serve the needs of the more committed soccer players by providing the highest level of education and instruction available, thereby preparing the players to be a proud representative of the Club at local, state, regional and national competitions.  Maryland United FC strives to develop confident players who have not only reached their full athletic potential but are also prepared to become active and productive members of the community.  As a part of this mission, the Financial Assistance Program (FAP) exists to try to ensure that players from financially challenged families and/or at risk players are not prevented from playing soccer for Maryland United FC due to financial reasons.
Applications for the 2023-2024 are currently being accepted. The FAP generally operates on a "needs based" model, based on family income, number of family members, potential number of players requesting financial assistance and available funds.  Information from the application and the amount of assistance a player receives will only be available to the FAP committee.  Your privacy will be carefully protected.  Applicants will be reviewed on a rolling basis and you will receive notification within 7-10 days upon receipt of your application. For questions or issues on the application, please contact Jennifer Pagliaro (email).
ELIGIBILITY
In order to be eligible, the player must meet the following criteria:
Provide a copy of your 2022 Federal Income Tax return (Form 1040), if not filed, 2022 W-2/1099s and 2021 Federal Income Tax return, as verification of income and number of family members (please blackout SS#).

Provide a copy of free or reduced lunch documentation (if applicable).

Any other documentation verifying financial hardship (if applicable).

Recipients agree to volunteer at Club events as needed: 10 hour minimum.
APPLICATION INSTRUCTIONS
Please read and complete all requested documents on the application to be certain you meet all the qualifications and supply the necessary information.  
Please be aware that financial assistance forms are processed in the order they are received and awarded on a rolling basis.  The Club does run out of financial assistance funds and may not be able to provide assistance to everyone who apply even if criteria for assistance is met.  Therefore, families are encouraged to apply quickly and to provide ALL requested documentation with urgency.  The number of players receiving assistance and the amount of the assistance given will vary depending on the funds available each year.  Funds for financial aid are donated to the club by contributions from families and local businesses and are also raised by fundraisers and tournaments.

Families that experience a mid-season change in financial circumstances (medical emergency, loss of job, divorce, etc.), or whose players are added to rosters late in the season for whatever reason, may notify the Club and complete the financial assistance application at the time of their change in circumstances, as funds could possibly still remain available after the initial application round.

Please note that financial assistance awards are given but no family receives a 100% financial award.  Many families will receive a specific dollar amount based on a percentage of their total fees (E.g., 10%, 20%, 30%, 50%). 
FINANCIAL ASSISTANCE APPLICATION (click here)
Please complete the application in full.

Applications will be reviewed by the Financial Assistance Program committee.  All  Information will be kept confidential.

Notification of assistance will be decided within 7-10 days upon receipt of the application.



NOTES

Be sure to include applicable issues in your written explanation submitted with your application.  

You are responsible for paying for all club and team fees, uniform and travel expenses, that are not covered by the financial assistance awarded.

If you have outstanding fees from the previous year's fees this application will not be considered unless the fees are paid in full.  
SUBMIT
We will automatically receive your application.  Please upload all supporting documentation including verification forms in the application form.
QUESTIONS
Contact Jen Pagliaro Jen.Pagliaro@mdunitedfc.org
2022-23 Family Discount
7% discount applied to the total balance with 3 or more siblings in the club
3.5% discount applied to the total balance of 2 siblings in the club
Please contact jen.pagliaro@mdunitedfc.org with questions or to apply this discount at the time of registration.
Maryland United Fees include:
All Tournaments / Showcase Events / State Cup Entry Fees
Registration Fees and Insurance (MSYSA, US Club)
All League Entry Fees (ECNL, EDP, CMSSL, USYS)
Grass, Turf & Indoor Field Rental 
Goalkeeper Training
HUDL, VEO, Sports Recruits & Hi-Pod Video Technology
College Seminar & Support
MD United Winter League
Coaches Travel Tournament Expenses (except ECNL Boys and ECNL Girls program)
Administrative, Coaching & Technical Staff Compensation
Workers Comp. Insurance
Referee & Assignor Fees
Website & Social Media Management & Information Technology
Player Evaluation System
Field Maintenance and Equipment
Maryland United Office Rental
Fees DO NOT include
Uniforms
Coaches Travel Tournament Fee & Expenses (ECNL & ECNL RL Boys and ECNL & ECNL RL Girls program)
Note individual player travel fee & expenses will be determined once rosters are set and the league travel schedule is finalized.
Personal Travel
Additional Tournaments
Program Add-ons
Budgets are fluid and with being set so far in advance there might be supplemental charges as needed for additional tournaments, replacement tournaments for cancelled tournaments that might cost more, or change in programs to fit the teams competitive level, etc….the team will be notified in advance of any changes that might impact any additional costs.
Why do player fees go up every year?
Player fees naturally increase each year from U8-U9-U10-U11-U12-U13-U14-U15 and then level out in the U15-U18 age group range.  The increases are reflected in the level of volume and programming offered (more training, league games and tournaments), the increase in experience, time, travel & commitment required of the coaching staff, and the ever-rising field rental costs, league & tournament entry fees.  
Why is there a significant increase from U14 to U15?
The increase from U14-U15 is reflected in the technology package and being in the U15-U18 college recruiting programming.  Fees increase due to the addition of HUDL, VEO & Sports Recruits and traveling & participating at prominent college showcase events focused on high level performance and college placement.
Teams are formed at tryouts and each player accepting a position on the team and paying your commitment fee & team fees is an acknowledgement to be committed to the travel program for 12 months.  Another player's opportunity to be selected at tryouts was taken by your acceptance and team budgets have fixed costs based on the number of players selected to a team roster.
If you decide to leave the club for reasons other than major illness, long-term injury or job relocation (family moving to another state) you will not be refunded your commitment fee, team fee, and will be responsible for any outstanding balance.
If you are asked to leave the club for any reason, you will not receive a refund and are responsible for any unpaid fees.
By completing the registration process and paying the commitment fee, you are acknowledging a commitment to the travel program for 12 months and that you will be responsible for the team fee and any outstanding balance.