We are proud of our past and primed for even more success in the future. Furthermore, we are thankful for all of the parents, board members, coaches, volunteers, and alumni who have helped to create a solid foundation for the footing of the club.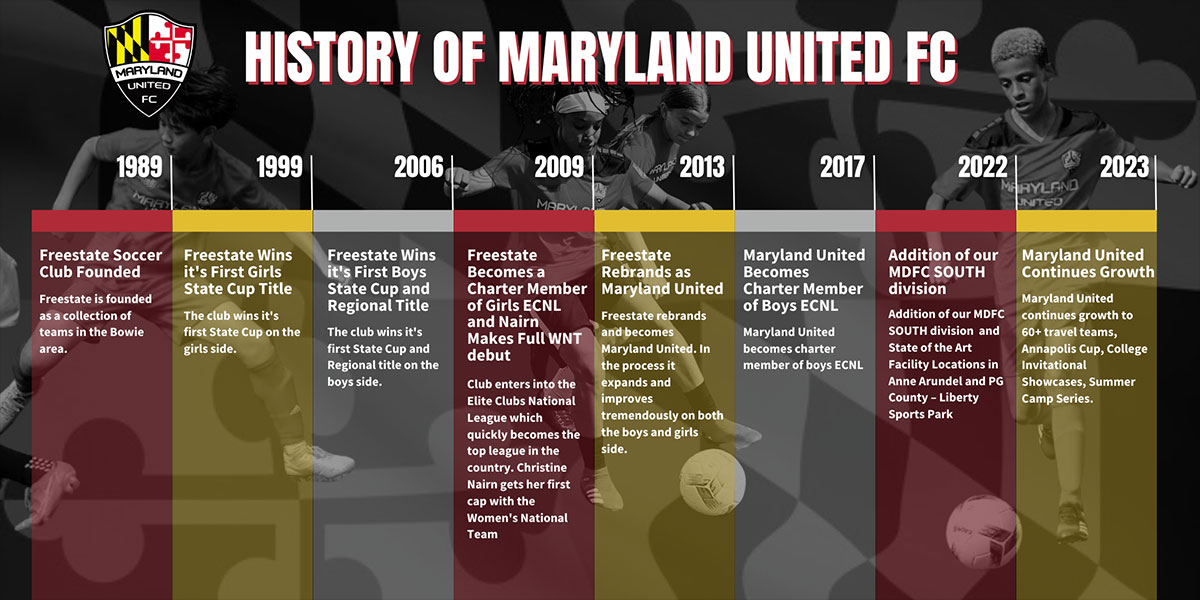 2016

In 2016, the club opened an office in Crofton, MD in an attempt to have a central place for meetings, storage space, and administrative duties.  In 2018, the boys also joined the Elite Club National League with the expansion of their platform to include boys.  Most club training and games became centered at the Indian Creek School in Crownsville, MD on two state of the art artificial turf fields. In 2018-2019, over 600 players from U-5 to U-18 represented the club in the Elite Development Program League (EDP), Central MD Short-Sided League (CMSSL), Chesapeake League, Northeast Premier League (NPL), US Youth Regional Leagues and the Boys and Girls ECNL Leagues.  Both boys and girls teams are having amazing results qualifying for post-season ECNL play and have continued to represent Maryland in the US Youth Region 1 Tournament each summer through success in MD State Cups.  College placement is at an all-time high when looking at all levels of our boys and girls programs (click here).

2013

In 2013, recognizing the changing landscape of youth soccer, many realized the need to attract more quality coaches and expand player pools to better serve our membership. Freestate Soccer Alliance merged with Waldorf Soccer Club and brought in some individual teams, including those from the Freestate North Program to create MD United FC. The player pool now came from all over MD and from as far away as St. Mary's County, Frederick MD, and Salisbury, MD to be a part of one of the best clubs for youth development in Maryland.  As a founding member of the Girls Elite Clubs National League (ECNL) and with the membership in the Club Champions League (CCL), the club needed this growth to be able to compete at higher levels in these platforms.  Along the way, MD United FC, never lost sight of the goal of developing players on and off the field who would become "active and productive members of the community". 

Mid 1990's

In the mid 1990's, a group of coaches including many who had grown up playing in Bowie began to increase the footprint of Freestate Soccer in the Region.  More teams were playing in the highest divisions of local leagues, having more success in MD State Cups, placing players in the MD Olympic Development Program, and eventually sending significant numbers on to play in college.  The Freestate United U-18 Girls team won the clubs first MD State Cup in 1999 sending most on to NCAA Division 1 schools.  Teams were now travelling around the country to the top tournaments of the time in North Carolina, Florida, Arizona, and California.  A club-wide uniform was adopted for the first time and teams regularly traveled overseas in the summer to participate in tournaments like the Norway and Dana Cups.  Soccer America nationally recognized the club in their top 25 Youth Programs in the United States for both 2007 and 2008. In 2007, the Freestate Shooters won the US Club Soccer U-17 National Championships.  Finally, Christine Nairn featured in both the 2008 and 2010 Fifa Youth World Cup USA Championship teams and served as captain on her second run.  Additionally, Christine received her first full senior cap with the US Women's National Team in the summer of 2009. 

1981

In the Summer of 1981, Ed Beimel started Freestate Soccer Alliance to provide youth travel soccer to a growing contingent of families from Bowie, MD who wanted to expose their children to the beautiful game.  Organized as a 501 (c) 3 with tax-exempt status from the IRS, Freestate teams participated in the Washington Area Girls Soccer League (WAGS) and National Capital Soccer League (NCSL) and traveled to tournaments mostly throughout the Washington Metropolitan area.  Many players went on to represent their high school teams including Bowie, Eleanor Roosevelt, Largo, and Dematha High School. Eventually, the club grew and had a player base that spread into Anne Arundel County.  While the majority of players chose not to play soccer in college, they carried all of the life skills that they learned during their time with the club. At that time, all practices and games took place in Bowie, MD (Claggett Fields, Racetrack Road Field, Allen Pond Park, Black Sox Park). Coaches included Ed Lockhart who went on to be named MD, Region 1, and US Youth Soccer Coach of the Year and Leonel Popol who later coached the Georgetown University Women's Team.