Sign up: Mini Kickers & Junior Academy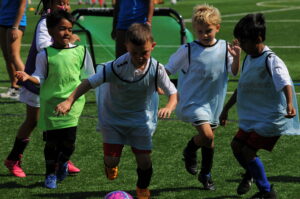 The Maryland United Junior Academy offers two programs | Jr. Academy and Mini Kickers.  Both programs have been designed to provide a fun, enthusiastic, and positive learning experience through practice and competition for the player's first few years of soccer. 
The Mini Kickers program focuses on FUNdamental soccer skills and techniques, including motor skills, social skills, and coordination. Each session will follow our age appropriate curriculum.
U3 & U4 (2019 & 2020) Boys & Girls
U5 & U6 (2017 & 2018) Boys & Girls
The Junior Academy program builds on the FUNdamental skills and techniques introduced in the mini-kickers program, with more focus on introducing players to a team environment and learning the game.
U7 (2016)  Boys & Girls
U8 (2015)  Boys & Girls
Click for more information on these programs. 
MD United South Program specifics can be found here.